Wine bar plans under way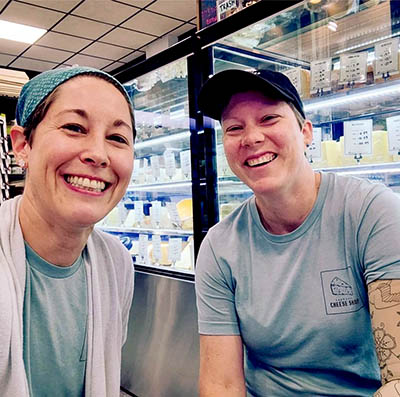 A new business soon will be offered by the co-owners of Euphoric Cheese Shop.

Cheri Intveld and Amy Burritt are busy working on Sparrow Wine Bar, slated to open mid-2023 in a space adjacent to the unique cheese business they have operated for more than two years in West End Center.

"We will be doubling our space to 2,400 feet," Intveld said.

"We are very, very excited," Burritt added.

Concrete already has been poured in front of the business, which will offer outdoor patio seating when Sparrow Wine Bar opens.

Also available will be indoor seating and a bar area, where patrons will be able to enjoy wines by the glass or bottle, as well as wine flights "so customers can try small pours of several different wines," Burritt said.

A food menu will include charcuterie, cheese, snacks/appetizers and "small plates," she added. "The new space will allow us to do private events, such as wine and cheese pairings, do-it-yourself charcuterie classes, events and more."

"Customers have been asking for wine since Euphoric Cheese Shop opened in February 2021," Intveld said.

"We have been dreaming about how to grow our business for a while, and Sparrow Wine Bar has been in the works since July 2022," Burritt said.

"Then the (adjacent) space became available Sept. 1," Intveld added with a smile.

Currently, both the cheese shop and wine bar are undergoing renovations in advance of the opening.

A door between the two suites is being added, as is a "cold kitchen." The ladies also are in the process of applying for a liquor-by-the-drink permit for Sparrow Wine Bar.

They said they will continue to work with local businesses, including Campbell Station Wines and Spirits, as the business grows.

"The thing is, we are continuing to support local businesses in what we do and what we are doing, so that is part of the story here," Burritt said.

Intveld said the name, Sparrow Wine Bar, is Biblical in origin.

"God takes care of everything, even the sparrows, and He takes care of us," she said. "He pushes us continually to draw nearer to Him.

"It also ties in with our goal, to build relationships within the community, and encouraging others to build relationships with each other and their families," Intveld added.

"When we opened the cheese shop, COVID-19 was still in full swing and many people were gathering at home, so cheese and charcuterie were the perfect way for people to come together and connect with each other," Burritt said. "Our vision with Sparrow Wine Bar is to give people another place to gather and enjoy wine and cheese and each other's company."

Follow Euphoric Cheese Shop and Sparrow Wine Bar on Facebook and Instagram for complete updates.