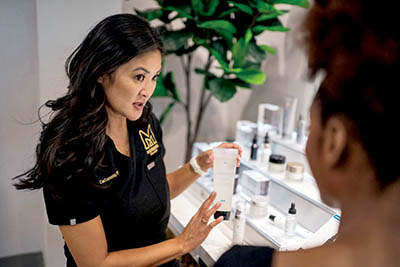 Following several months of renovations, Meridiem Dermspa is hosting a grand re-opening from 10 a.m. to 7 p.m., Monday, May 8, in its offices located at 11416 Grigsby Chapel Road, Suite 101, in Farragut.

During that time, potential clients can enjoy coffee, and pastries, a ribbon cutting at noon, various food trucks throughout the day (from 3 to 7 p.m.) and afternoon live demonstrations of procedures, including Botox, fillers, hydrofacials, cool sculpting and microneedling, which will start at 1:30 p.m.

"If people don't know what something looks like, they can be nervous before choosing to have a procedure done," explained Peyton Overbey, Meridiem Dermspa clinical supervisor.

"We will not only have the demonstrations, but representatives from all the companies we work with will be there, too," she added.

Additionally, all potential customers will have the chance to enter a raffle, and all products and services are 20 percent off that day as well, Overbey said.

Meridiem Dermspa offers medical-grade skin care.

"One of the biggest differentiators between our company and others is that we focus a lot on clean-up procedures from dermatology procedures," she added.

The business is affiliated with Dermatology Associates of Knoxville, with DAK physician Dr. Edward Primka overseeing Dermspa.

The business is located at the corner of Grigsby Chapel and Campbell Station roads, and is one of three Meridiem Dermspas in the area.

The others are located in Sevierville and along Fox Road in West Knoxville.

"I hear all the time people saying they don't realize we have a location in Farragut," Overbey said. "So we wanted to be sure and formally announce our grand re-opening, and show the community what we offer."

Regular business hours will be from 10 a.m. to 7 p.m. on Mondays and from 8 a.m. to 4:30 p.m. Tuesdays through Thursdays. It is closed on Fridays.

For more information, call 865-342-5823 or visit www.meridiemdermspa.com.