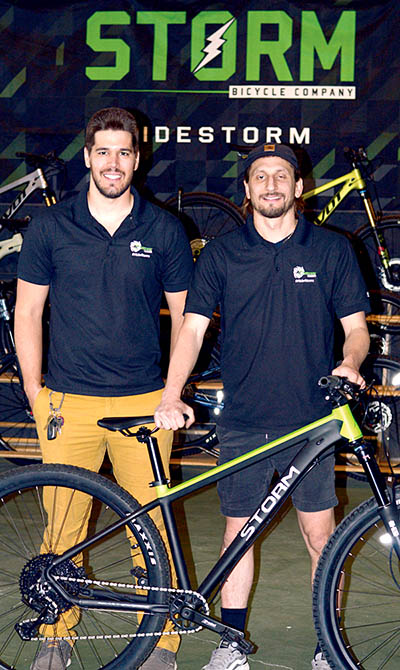 A new bicycle business, Hurricane Cycles, has come to Farragut, locating at 138 West End Ave., the former Echelon Bikes location.

"This is intended to be our flagship store," said Andrew Ingram, owner of Hurricane Cycles. "We've come up with a totally different vision of how to sell bicycles, so we're doing extensive changes to the business plan we think will be better for the public.

"We'll become a destination location," he added. "I'm super excited. We are really, really ready to bring an exciting new bicycle retailer to the Knoxville area.

"We've got some really cool projects in the mix that we're going to be doing that should really get people talking about it."

Hurricane Cycles repairs and sells "every kind of bicycle — mountain bikes, road bikes, hybrids, electric — you name it, we've got it all," Ingram said.

That includes its own house brand, labeled the Storm brand of bicycles and components.

The names, hurricane and storm, came about because "I was born the same day Hurricane Andrew hit Florida," Ingram recalled. "So, 'Hurricane' has been my nickname my entire life."

He started his business eight years ago with a store in Crossville.

"We grew up there and now were expanding," Ingram said about adding his second location in Farragut. "We purchased the inventory from the previous owner," who closed April 1.

"We're going to have a grand opening later this summer (estimating to be in July or August) once we get past some initial question marks on set-up with the Town," he said.

"Our goal is to be a national chain," Ingram added.

Before owning a bicycle shop, he was an industrial engineer who raced in the Pro Class for mountain bikes.

"I traveled around the country, racing bikes all over the place against the top talent in the world," Ingram said. "I had been to a lot of bike shops all over the place because of that.

"Now, we're trying to bring all the emotion, the excitement and passion that goes into racing high-level mountain bikes, and distill it down into a storefront that we can give people that emotion, that excitement, that passion," he said. "When you walk into the store, your are going to have sights, sound, smells — all the feelings of hanging out with your friends up in the mountains, riding single track.

"…Ideally, you cannot wait to get outside the store and go ride a bike," Ingram added.

Hurricane Bikes is open from 9 a.m. to 5 p.m., Tuesday through Saturday.

For more information, call 865-392-1392.