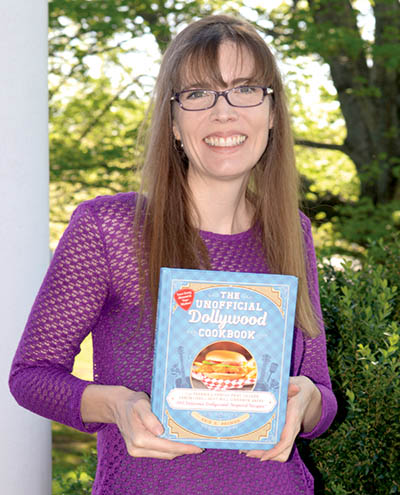 Farragut author/blogger Erin Browne is providing everyone with a taste of Dollywood with the recipes in her book, "The Unofficial Dollywood Cookbook."

"I'm super-excited about it," Browne said about having the book published. "I think a lot of food bloggers hope to one day publish a cookbook, so it kind of still feels like a dream. You know, it's happening around me rather than happening to me.

"Some early reviews have come in, and the response has been great so far," she added. "I love creating recipes that are inspired by theme parks, restaurants, things like that.

"It was a lot of fun putting together this collection. I hope (Dolly Parton) would love it. I think she would. It is unofficial, so I have not spoken with Dolly herself, but I think she would be proud."

Readers will find such recipes as Frannie's famous fried chicken sandwiches, Grist Mill cinnamon buns, red velvet funnel cakes, Lumber Jack pizza and country-fried steak with white pepper gravy, among many others.

The book, priced at $22.99, is available through any online retailer — Amazon, Target.com, Walmart, Barnes & Noble — as well as in some brick-and-mortar stores, such as Target.

The endeavor started with her blog, "Brownie Bites.net," a play on her last name, tying it to the food theme.

"I have been blogging for about 12 years now," Browne said. "I primarily share recipes and develop recipes. I do my own photography.

"I also share about food that we find while traveling," she added. "My family and I have been going to Dollywood since my kids were babies, so I started creating some Dollywood content.

"I like to share pop culture copycat-type recipes, I guess you would call them, so I did a few posts on some things we had eaten at Dollywood."

Those posts led to a message Browne got last winter from editor Julia Jacques of Adams Media, a branch of Simon and Schuster.

"They publish adult non-fiction," she said. "I think their tag line is trendy, adult non-fiction.

"(Jacques) told me about this existing book series they had of unofficial cookbooks," Browne added. "They have done things like Harry Potter, Downton Abbey, Hunger Games and Tic Toc.

"She said they wanted to do a Dollywood cookbook, and they had gone online, found my content I posted on the blog and they asked if I would be interested in helping them produce this book. I responded 'absolutely. I was right up my alley.'"

As there were a couple other authors being considered, they all submitted samples with a table of contents, list of recipes and her vision for the book.

"Last February, I got the call from my agent that they wanted me to be the author of this book," Browne said.

Completing the manuscript took her four months, she said. It was published Tuesday, April 4.

Before blogging, Browne was a wedding photographer in downtown Knoxville for about eight years. Then, she and her husband, Matt Browne, started talking about starting a family, which they did. They have two children, Jasper, 8, and Shelby, 6.

"Wedding photography, of course, takes up a lot of time," she said. "So, I started transitioning. I wanted to stay with photography, and cooking and baking were a passion of mine.

She combined photography and food in a blog.