Johnny Brusco's new owners add new features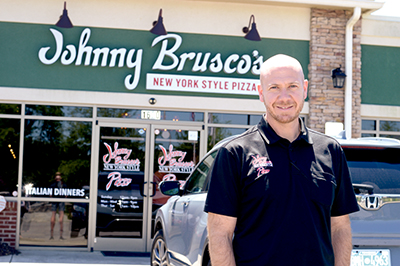 KNOXVILLE — Johnny Brusco's New-York Style Pizza's new owners and long-time friends, Beau McKee and Chris Gambill, have more than just pizza on the menu at the restaurant, 1620 Choto Markets Way in Markets at Choto.

Along with the signature pizzas, the restaurant serves subs and wraps, wings, salads, Italian dinners, stromboli, calzones and appetizers, from bread stix to fried pickles.

McKee and Gambill took over the Choto franchise Saturday, April 1.

"I'm excited," McKee said. "With the growth Knoxville is experiencing, I think we can expand the brand in Knoxville and surrounding areas. That's the plan — fingers crossed.

"We've already brought back the smash burgers," he added. "We've added a couple appetizers."

One feature unique to the franchise is customers can order pizza by the slice.

While the Johnny Brusco's brand items are proprietary and must stay the same, "they do allow us some flexibility to run features," McKee said. "Down the road, we'll probably add some sandwiches and stuff to the menu.

"Probably this summer, we'll do like a seasonal pizza and a salad," he added.

McKee pointed out the current appetizer menu includes a lot of fried items and bread.

"We kind of lightened stuff up," he said. "We've got a housemade hummus appetizer and it's served with fresh veggies, pita chips. And we currently are doing a buffalo chicken dip."

This summer, they are planning on adding a salad with goat cheese, maybe fruit and a light vinaigrette.

"We're also going to have a full bar," McKee said. "We're in the final stages of our liquor license being approved.

"Hopefully, within a week, we'll have wine and liquor in here as well," he added. "We're going to do some signature cocktails, probably leverage the Italian theme.

"We're going to have specials throughout the week and happy hour. Hopefully, down the road, we'll implement some brunch hours."

Outside, "we're going to have a bunch of games on the patio – darts, got some new corn hole boards — and make that a happening spot," McKee said.

The restaurant is old hat to both men.

"I've always been in the restaurant industry," McKee said. "We actually worked as servers at Ruby Tuesday a long time ago. I trained him.

"But (Gambill) got out of the restaurant business and was doing some other things, and finished that phase of his life," McKee said. "Up in Johnson City and Bristol, he and a partner purchased two Johnny Brusco's.

"After talking to the franchise people in Atlanta, they found out this (restaurant) might be for sale also," he added.

"I was already living in Knoxville, so (Gambill) and I got together … here we are."

The restaurant, which offers dine-in, takeout and online ordering, is open from 11 a.m. to 9 p.m., Monday through Saturday, and from noon to 9 p.m., Sunday.

However, McKee said once they have their full bar, they expect to expand those hours.

"We'll probably stay open 'til 10," he added.

To order ahead, call 865-611-0403 or visit online at johnnybruscos.com.