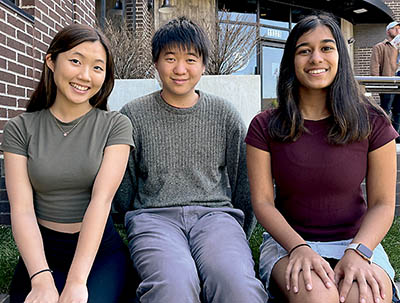 Farragut High School's top students for the Class of 2023 are co-valedictorians Eyrin Kim and Justin Li and salutatorian Ridhima Singh.

They will be graduating Sunday, May 21, along with 505 classmates during ceremonies on campus at Eddie Courtney Stadium/Bill Clabo Field starting at 6 p.m.

Kim and Singh have been friends since the fourth grade, while Li joined the class as a freshman. However, the three have a kinship that transcends competition.

"There is a whole little group of all of us, and while we are somewhat competitive, we all support each other," Singh said.

"Everyone really has their own focus," Li said.

"It can be competitive if you see yourself as small fishes in a big pond, but we're really each a fish in our own pond," Kim said.

They also point to the guidance and support they received from teachers and administrators as being highlights of their high school experience.

Science teacher "Mr. Milligan, has been so amazing," Li said. "He has been very involved and has really been our anchor in many ways," a sentiment echoed by both Singh and Kim.

"We have been so happy we have had him," he added.

"I am so grateful to have had Dr. (John) Bartlett (principal) for all four years," Singh said.

"Dr. Bartlett is our hero," Li said. "He has made going to high school really fun. The energy he brings to every room, no matter what you do, you know he really cares and genuinely wants to know what goes on."

They also noted the extraordinary efforts of Lauren George Smith, who teaches environmental sciences.

"So many of our teachers are really amazing," Kim agreed.

Singh also praised the academic offerings at Farragut.

"Something you don't really appreciate until you talk to others are the AP Classes we have here," she said. "Other kids at other schools will talk about not getting physics, for example, and we have not had that problem at all. It has really been nice."

"In addition to the strong academics, another great thing about Farragut is all the club offerings," Kim said. "You have so many opportunities to get involved and be your own person."

All three were among 648 semifinalists nationwide for the U.S. Presidential Scholars program (Kim also was named a finalist) and all three are National Merit Scholarship finalists.

Just a few of the trio's many accomplishments are listed ahead.

Kim

The daughter of Eunjin Choi and Hyun Kim achieved a perfect score on both the ACT (36) and PSAT (1520).

Her extracurricular activities have included Science Olympiad (10-plus team and individual medals on regional and state levels and serving as president); Model UN (best and outstanding delegate awards from regional and international conferences, and president of school club); and HOSA health professionals state leadership competitions (first place two consecutive years).

Kim won first place in Oak Ridge National Lab's 2022 International Data Challenge, as well as second place in the International Science and Engineering Fair 2022; first place in the National Oceanic and Atmospheric Association 2022; a special award in 2022 from the National Geographic Society; and she also was named Grand Champion in the Southern Appalachian Science and Engineering Fair 2022.

She also has been a violinist for 11 years, and is a member of the Knoxville Symphony Youth Orchestra (currently its season Concertmaster).

Kim said she "didn't have any one focus point throughout my high school career. I'd like to say I took a well-balanced mix of STEM and humanities courses, mostly just with the intention of studying topics that seemed interesting to me.

My favorite classes span from Botany and Zoology to AP comparative government."

Her plans call for her to attend Stanford University this fall, with an intended major of environmental science and public policy, though that is subject to change, she said.

Li

Li is the son of Erin Zhou and Fran Li, who ensured he attended FHS by changing school zones.

The co-valedictorian has been involved in the Asian Culture Club (past treasurer), FHS Science Olympiad A Team (2021-23), Model UN, HOSA, MAO, Science Club (secretary), Mu Alpha Theta honors society, Coding Club, National Spanish Honors Society, National Honor Society and has been president of the Chess Club since 2020 — an organization for which he has raised more than $2,000.

Chess has been a passion, as he obtained a Junior Tournament Director certificate issued by the U.S. Chess Federation, was a member of the FHS team, which won state champion honors in 2023, and he also is a chess instructor and co-founder of Rocky Top Chess (a Knoxville-based non-profit organization promoting chess, science and diversity in chess).

He also has been a research intern with ORNL, was a research assistant at University of Tennessee, Knoxville under two professors and has been published several times for his research.

This spring, Li also was dually enrolled at Pellissippi State Community College.

He plans to attend Cornell University as a Hunter R. Rawlings III Cornell Presidential Research Scholar (only 40 awarded of 68,000 applicants), where he will study applied economics and statistics.

"My focus of my studies has been geared toward science, math and research," he said. "Most of my accomplishments are from my research — I was published in an international journal for electrical engineering this past fall.

"One day, I want to become a professor in economics," he added.

Singh

The daughter of Debjani and Nagendra Singh also received a perfect 36 on the ACT.

Singh is one of the top 300 students in the nation chosen as a Regeneron Science Talent Search Scholar. As part of her research journey, which has been a focus of hers since middle school, Singh was Grand Champion at the Southern Appalachian Science and Engineering Fair in 2021 and Reserve Champion in 2022, allowing her to become an International Science and Engineering Fair finalist in both 2021 and 2022.

Singh lists her main extracurriculars as Mu Alpha Theta (the math honors society, for which she has been president since 2022) and the Science Club (vice president of Science Bowl since 2021).

She placed second and fourth at the Mu Alpha Theta National Convention in Trigonometry and Complex Numbers and has been the state champion for several math competitions.

Singh also has been heavily involved in Science Bowl since middle school, having successfully led Farragut Middle School and FHS teams to state championships and national competitions.

In addition, Singh has been a member of the FHS swim and dive team, National Honor Society, Coding Club, Junior State of America and Model UN.

She also has been a Girl Scout since 2010 and has been a recipient of Bronze, Silver and Gold Awards.

Singh plans to attend Massachusetts Institute of Technology to study computer science and economics.

"I'd like to eventually have a career in policy and science," she said.