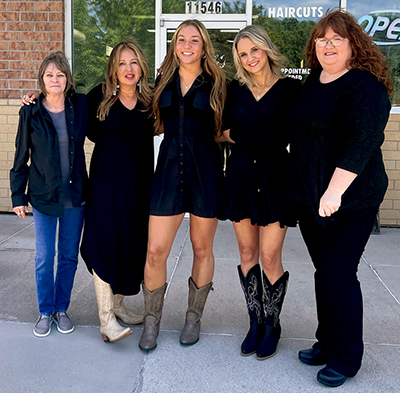 "It's been exciting, for sure," owner Paula Musco said about opening Paula's Barber & Beauty, 11546 Kingston Pike, in April in the Kohl's shopping center.

The business is a full-service salon for men, women and children.

"We do it all. We do barber cuts," she said. "We do colors, highlights, perms.

"The shop has always been a walk-in business," Musco added, noting about 80 percent of her customers are walk-ins.

"For the past 12 to 15 years (the previous salon) had been here, it had been walk-ins only."

However, customers also can book appointments.

"After COVID hit, (customers) were forced to make appointments, and they liked it and (we) decided to keep it," Musco said. She added, though, people still are welcome to walk in for service.

Being retired and with her children in college, "I just wanted a part-time job somewhere" and found work at the Cutting Crew hair salon in the shopping center, she said.

"I worked for the previous owner for about two months when he decided that he might close the shop when the lease was up," Musco recalled. "He asked if anyone was interested in buying (the salon). The other two girls were not interested, but I said 'if they agree to stay, I'd like to keep it open,'" she added.

"This is a fun place to work."

After talking with the previous owner, she took over the business.

This is not her first rodeo with running a hair salon, as she has done hair for more than 20 years.

"I'm really comfortable with it," she said. "I did it in Florida. I had my own place … I've always been independent.

"This is ideal for me," Musco added. "This is five minutes from my house. No traveling."

She is joined by stylists Tiffany Hayes and Tony Perry, and receptionists Emily Musco and Cally McDonald.

The salon is open from 9 a.m. to 6 p.m., Tuesday through Friday; from 9 a.m. to 4 p.m., Monday and Saturday; and closed Sundays.

To book an appointment, call 865-671-0707 or visit Instagram.