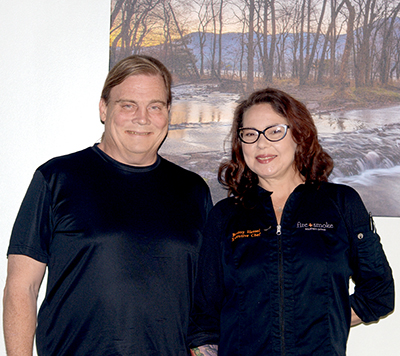 William "Archer" Bagley III is bringing the heat to fine dining with his newest restaurant, Fire + Smoke, a Southern prime steakhouse at 9405 S. Northshore Drive, Suite 103 near Crown Cleaners.

Fire + Smoke, owned by Archer's Barbecue, LLC., fire grills and smokes the meats, and some sides.

It offers "all prime beef," executive chef Bryony Hensel said. "We source it from one farm in Georgia, except for the Japanese kuroge wagu, the crème de la crème of beef. It's Fed-Ex'd to us from Japan.

"We have a pork chop that's sweet tea-brined and cold-smoked that's honestly one of the best pieces of pork I've ever put in my mouth," she added. "We offer chicken, and we do a fish (dish) that changes quite often. So we've got something for everyone. "

For an appetizer, customers can order marinated shrimp cocktails, fried Gulf oysters, prime tenderloin tartare or a charcuterie board. Soups and salads also grace the menu.

"Surprisingly, we're vegetarian friendly. If people let us know, with their reservation, that they have a vegetarian in the party, we will make something special," Hensel said.

And, "all our sides are very, very Southern," she added. They include such fare as hand-cut beef tallow fries, cast-iron baked mac and cheese, grilled broccolini, smothered collards, baked potatoes and heirloom carrots.

Fire + Smoke is only one of six Archer's Barbecue, LLC, restaurants, another of which is Archer's BBQ at 10205 Kingston Pike near Farragut.

Additionally, another restaurant is being conceived: Reverie, which will offer brunch fare in Knoxville.

"We spent two years building this out," Bagley said about Fire+ Smoke.

Designed by R2R Studios, the building initially consisted of a concrete floor, four walls and a ceiling. Now, it features a fireplace and a Mid-Century Modern steakhouse flair.

Bagley brought his restaurant to Northshore "because I knew this area was really hurting for more restaurants," he said. "There're a lot of residential areas around here and not many restaurants.

"It's kind of a commercial little island around here," he added. "Hatcher Hill owns this property. I rent five of my eight properties from him — I have rented properties from him for over 10 years — so we kind of teamed up with them, and they helped us a lot with the build-out.

"I'm happy for sure."

Hensel brings a Southern flair to the menu.

"I grew up between New Orleans and the Atlanta areas, and I've lived around quite a bit of Appalachia, so all that's reflected in all of our food," she said. "Some of these recipes are my grandmother's, and I'm insanely proud of that.

"A lot of people asked me why I chose Knoxville (a little more than a year ago), knowing that I'm new here," Hensel added. "I tell them 'I didn't; Knoxville chose me.'"

The restaurant, open from 5 to 9 p.m. Tuesday through Saturday, takes reservations and walk-ins.

To make a reservation or for more information, call 865-253-7620. To check out the menu, visit www.fire-smoke.com.