Glafenheins' Honors Real Estate ranked seventh out of 40 UT alumni-owned local companies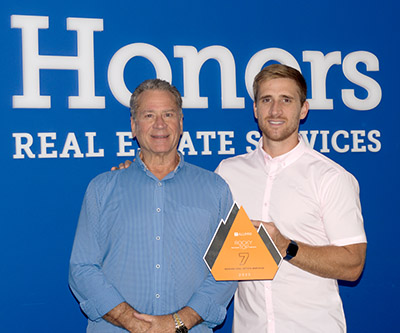 Farragut resident Wil Glafenhein and his father, Glen Glafenhein, co-owners of Honors Real Estate Services, 2099 Thunderhead Road near South Northshore Drive, were honored Friday, May 5, by their alma mater, University of Tennessee, for their achievements in business.

The father and son, Farragut natives, received the Rocky Top Business Award during UT's inaugural Rocky Top Business Award Ceremony on the UT-Knoxville campus.

"UT started the Rocky Top Business Awards to recognize graduates from across the country who started their own businesses," said John Glafenhein, office manager with HRES. "Applicants were vetted by PYA and ranked with the most growth over the last three years.

"They were ranking the top fastest-growing businesses per growth rate owned by UT alumni," said Wil, a Farragut High School Class of 2007 graduate. "It was pretty cool. They had (Pershing Yoakley & Associates, a Knoxville accounting firm) look at everyone's books.

"We had to send all our books, and they analyzed hundreds of businesses and nailed it down to the top 40," he added. "We got ranked seventh out of all UT alumni-owned businesses in growth rate."

Wil attributed the company's success to its agents' "ability to help and serve, and our culture," he said, noting HRES currently has more than 60 agents … with "quality advice, quality guidance."

The company has its foothold in Farragut.

"I think part of it is a lot of our agents live in that area. It's a good area, and we're very familiar with it," Wil said.

The Glafenheins opened their real estate business in 2013.

"We're a family-owned and operated real estate firm, which is fairly rare to have one our size,' Wil said. "Most of the time, they're little bitty.

"Our 10-year anniversary is in October," he added. "Our growth has exploded — over $272 million in closings last year. We're continuing to grow and expand. I think we got 13 new agents this year. It's cool to be part of a family firm."

The company will celebrate its anniversary by moving to a new location in the Bearden area in October. They have been in their current location near Northshore Drive since Jan. 1, 2014.

Wil noted the new Bearden location will be twice the size of its current office.

The junior co-owner graduated from UT with a business degree in supply chain and marketing in 2011, while Glen graduated from UT in 1978 with a degree in real estate.

Honors Real Estate Services is open from 8:30 to 5 p.m., Monday through Friday, or by appointment after hours. Contact them online at honorsrealestate.com, by e-mailing wil.g@honorsproperties.com or by texting Wil at 865-919-7747.