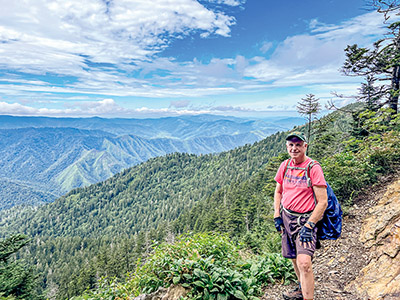 Bob Turney, 75, is "not slowing down soon."

The retired local optometrist is planning his 100th climb up Mount LeConte in the Great Smoky Mountains National Park in October, taking the Alum Trail, "when the colors are in and it's beautiful, if everything goes well.

"I'm at 95 (climbs) now, and I try to do one a month," Turney added.

Mount LeConte is the third highest mountain in the Smokies at 6,593-foot elevation, while Clingman's Dome is the highest at 6,643 feet and Mount Guyot is the second highest at 6,621.

"I've always loved the mountains," Turney said. "I just love the beauty … fresh air. I love the people that I meet along the trail from all over the world.

"I've been a nature lover for years," he added. "I grew up a Boy Scout, so it's been an outdoor adventure for me.

"We couldn't live in a better part of the country and have a more beautiful national park than what Smoky Mountains National Park is."

As such, he likes to take the trail slowly. There are six trails to Mount LeConte — and he has hiked them all — but he chose the Alum Trail because it's the easiest, the shortest "and probably has some of the best views of the trails."

Still, "it's always a hard climb," Turney said. "I don't make it as fast as I did years ago.

"Every time you stop on the trail, you see something beautiful," the 75-year old added. "You see flowers and plants and animals you wouldn't see if you just keep going.

However, "… you're having to watch your feet and watch where you walk because it's a rough trail," he said. "You'll take a spill if you don't."

The trek usually takes Turney three-and-a-half hours to get to the top of the mountain, depending on how many people he meets for conversation.

"I've taken people with me that were very slow going," he said. "I guess the most time — it took me six hours one time.

"But that's OK," Turney added. "They made it, they loved it and they will be proud the rest of their life that they did it."

His first climbing venture on Mount LeConte started in 1979. Turney recalled he initially was inspired by a former classmate from Newport while he was attending optometry school in Memphis.

"He and his family grew up in the mountains, the Smokies, so the farthest hike I did was with him and his dad, and a number of other young men that were in optometry school with us," Turney said. "It wasn't something I planned all my life to do, but after doing it one time … that just kind of gave me the fever."

There are two overlooks on Mount Le Conte. He said one is called Clifftops for the sunsets, and the other is Myrtle Point for the sunrise views.

However, the highest point on the mountain is called High Top, where climbers have stacked up boulders and rocks, making a big pile and "trying to get up to the 50-foot level to be as high or higher than Clingman's Dome," Turney said. "I don't think they'll ever make it 50 feet."

Background

Along with being a retired optometrist, he also is a retired officer in Crossville, where he served for 39 years, and worked as an eye doctor in the state prison for seven years. Turney also volunteers with Mission of Hope as a driver, delivering donated goods to Kentucky.

His wife, Helen Turney, has accompanied him on his climb once in the past, and his two children and four grandchildren have joined him at times.

To stay in shape, he walks a couple miles a day.