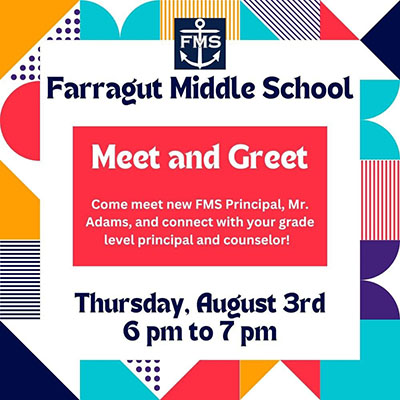 As Farragut Middle School's new principal, Greg Adams has spent the summer getting acquainted with the school and staff.

"My door has been open, and many came in on their own time to meet and welcome me to FMS," said Adams, who began his new post Saturday, July 1, after spending two years as an assistant principal at Bearden High School.

"It really said a lot to me that they wanted to meet, especially since they didn't have to report to the building for work yet," he said.

Adams is the first new principal for FMS in eight years. Previous principal, Wes Edmonds, resigned at the end of 2022-23 to take a position in Knox County Schools' central office.

"I value my faith, second my family and third serving the youth in our community," Adams said.

"That is just me. Integrity is also huge, along with being fair and consistent in all circumstances," he added.

Adams may be a newcomer to Farragut, but he grew up in Oak Ridge and came to work for Knox County Schools in 2021 after living in Michigan for nearly two decades.

"I graduated from Oak Ridge High School in 1999, then attended Roane State Community College," he said. "I decided I needed a change and moved to Michigan, where my oldest brother lived."

Adams received a bachelor's degree from Michigan State University in learning disabilities/special education, where he also received a master's degree in emotional impairment.

He also met his wife, Canena, and the couple started a family, which now includes sons, Jalen, Julius and Nehemiah, along with daughters, Kaylynn and Olivia.

Adams started his career as a youth specialist, working with at-risk youth for 16 years. He became an educator and started his career at daVinci High School, a charter school in Michigan, as an assistant principal and athletic director.

Shortly after, he taught in a middle school emotionally impaired classroom for six years. He then transitioned to become principal of Western Career Prep High School, an alternative high school building for the Western School District. After two years, Adams sought an opportunity to grow as an administrator and became an assistant principal for Jackson High School before deciding to return to East Tennessee.

"I had been gone for 20 years, and my family and I decided that it was time to come home, where my parents (Vincent and Lillith) and my brother (Garfield) still lived," Adams said.

Jalen stayed behind in Michigan, but the couple's four youngest are in Knoxville: Kaylynn is a graduate student and Julius is an undergrad, both at the University of Tennessee, while Nehemiah and Olivia attend Cedar Bluff Middle School.

Canena works at the University of Tennessee as an internal communications specialist.

The couple also is involved in the marriage and family ministry in the Adamses' home church in Chattanooga.

"We teach marriage and family classes to build strong relationships and families," Adams said, sharing the couple also taught similar ministry programs in Michigan, while also establishing a nonprofit organization, Women of Worth Inc., to empower women and mentor youth within the community.

It is all part of an internal drive he has to help where and how he can.

"I always feel like I can do more," Adams said. "Throughout my career, I felt the push to see how best I can serve youth and help them grow, not just academically but also their character and as people."

His brother, Garfield Adams, also works for Knox County Schools, serving as assistant superintendent for operations. "I think the world of my brother," Adams said. "And it's nice to hear many people tell me what a great job he does. He is certainly someone I look up to."

The Adams family originally is from Guyana, South America.

"My parents came to the United States with two suitcases and my two brothers in the late '70s. I saw my parents build amazing careers from almost nothing," said Adams, who shared his mother retired as a registered nurse at Methodist Medical Center of Oak Ridge, and his father, who managed two nuclear divisions for the Department of Energy, then after retirement from D.O.E became director of the EPA in his home country of Guyana for two years.

Adams will be front and center for a "Meet and Greet" from 6 to 7 p.m., Thursday, Aug. 3. Grade level principals and counselors will participate.