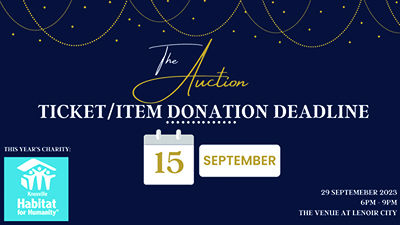 Farragut West Knox Chamber of Commerce's annual The Auction returns with new features and continued elegance.

This year's event is slated to start at 6 p.m., Friday, Sept. 29, in The Venue, 7690 Creekwood Park Blvd, Lenoir City.

Those interested can still buy tickets or donate auction items until Friday, Sept. 15, the deadline. Along with supporting the Chamber, attendees are supporting the event's non-profit, which is Knoxville Habitat for Humanity this year.

While the Chamber has been holding the event on a Thursday for a couple years, "this year it is back on a Friday like we used to have it," FWKCC president/CEO Julie Blaylock said. "We are testing having it back on a Friday evening like people have been accustomed to for the past 30-plus years.

"Hopefully more people will be able to attend and can stay, network and enjoy themselves," she added.

Tickets are $75 per person. Tables of 10 are $700 for a non-member and $600 for a Chamber member.

"We strongly encourage Chamber members, if they want to pull together a table, it can be their company or fill with friends and colleagues," Blaylock said. "They don't have to be members to sit at a members' table.

Tickets can be purchased at farragutchamber.com by clicking on events and then Auction.

"It is black-tie optional dress," Blaylock said. "We encourage people to dress as formally as they want to come and show off for the night, have a fun date-night out or a fun ladies' night out if they so choose.

"There will again be a silent auction to kick off the evening," she added. "It will be followed by dinner, and the evening will cap off with a live auction."

While the event's format is similar to last year — an upscale gala and dinner affair — there will be a couple new and different opportunities.

For example, Rick Terry Jewelry Designs returns as The Auction's bling sponsor.

"(Owner Rick Terry) is bringing back the most fun part of the evening, where he will be selling pairs of earrings for $20," Blaylock said. "A limited quantity of 100, so once they are gone, they are gone.

"They will be gift-boxed and wrapped," she added. "Everybody will be asked to keep their boxes wrapped; and right before the live auction starts, we will bring Rick Terry up to the stage, and he will do the unboxing with everybody.

"One person will discover that, in addition to the $20 earrings they've purchased, they will also be taking home a $2,000 pair of diamond earrings," Blaylock said.

Similar to last year, there will be dinner stations, as Classy Caterer is returning to cater the event. Dixie Lee Wines & Liquors is the vendor for beverages and cocktails.

"Our auctioneer this year is a Knox News Sentinel 40 Under 40 awardee, Phillip Hopper, executive vice president of real estate for Powell Auction & Realty," Blaylock said.

The money raised that goes to Habitat for Humanity is 20 percent of sales from silent and live auction items and 20 percent of any of the net operating proceeds (sponsorships plus tickets minus expenses).

Blaylock said 100 pecent of the proceeds from the final live auction item also will go to Habitat for Humanity.

"It's going to be a private barbecue for 10 (at the auction winner's home) by Town of Farragut Mayor Ron Williams and Knox County At-Large Commissioner Larsen Jay," she said.

"That money is going toward a build (of a home) in Knoxville for a six-person family of small business owners," Blaylock added. "They're very hard-working, but as we know, housing in our area has gone out of reach for a lot of individuals and families.

"Once the build begins, (Chamber volunteers) will have the chance to go and participate on the build.