Farragut native/owner adds retail athletic apparel, gear sales to SM Athletics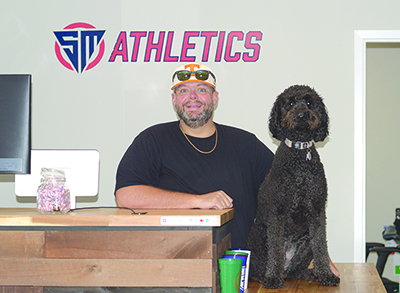 SM Athletics has ventured into a new journey, offering retail sales of sports teams gear — T-shirts and other apparel, gear, headwear, footballs, stadium chairs and more — in the front of its building.

"It's a new revenue stream," said owner Ryan Brown, a Farragut High School Class of 1997 graduate. "But I think being born and raised here and having gone to Farragut (schools) and knowing this community, knowing how passionate they are about sports, I really did this more so the community can have a place to come, pay a fair price for really good apparel and gear and support their schools, communities and student athletes.

"I think it's a win-win for us and the community," he added. "I'm excited about that … the communities are super excited about it."

Brown said the 47-year-old company started out as an athletic uniform manufacturing company occupying an 80.000-square-foot building off Lexington Drive in Knoxville for more than 30 years.

"They literally cut and sewed together athletic uniforms for sports teams (and band uniforms) all across the country, made right here in the U.S.A," he said. "I came and bought the business in 2018 after spending about 14 years with Adidas, the shoe brand, and was with them here, Boston and Oregon.

After 10 years, Brown moved back to Knox County.

"It had always been a dream to have our own place, buy our own manufacturing company," he said. "To this day, we still manufacture and produce sporting goods, uniforms and athletic apparel for teams and companies all across the country.

"Most of our business is wholesale and goes out the back door," Brown added. "And, we sell to a lot of businesses; but because we do screen prints, embroidery and all those things here in Knoxville, we sell (those services) to a lot of businesses that buy the polos (shirts), the T-shirts.

"We put logos on stuff for businesses all across East Tennessee,:

In 2021, the business moved to its current location, 10625 Checkerboard Lane off Murdock Road.

"When we moved into this building, the front space of it was wide open," he recalled. "We were going to use that as a showroom for samples, etc., but then we started thinking about it.

"We work with high school sports teams and parents everyday," Brown added. "So, we're talking to these folks."

They asked about getting gear for local school sports teams, such as Farragut and Hardin Valley.

That gave him an epiphany: "Let's turn the front of this building into a retail store that sells sports — you know, the six, eight, nine communities that are within 10 miles of our store," Brown said about local school teams. "We started with six — Farragut, Bearden, Hardin Valley, Catholic, Webb and (Christian Academy of Knoxville). But, since then, we've added Concord, Knoxville Christian, Karns and we'll be adding Lenoir City.

"The business has been around for a really long time," he added. "But the front end of this has only been open four about two-and-a-half, three weeks.

"We did our official grand opening (Aug. 16-18)."

The shop is open from 10 a.m. to 5 p.m., Monday through Friday: summer hours include from 10 a.m. to 2 p.m. on Saturday.

For more information, call 865-966-343, stop by the store, visit its website at smathletics.com, Facebook @sm-athletics-inc or Instagram.