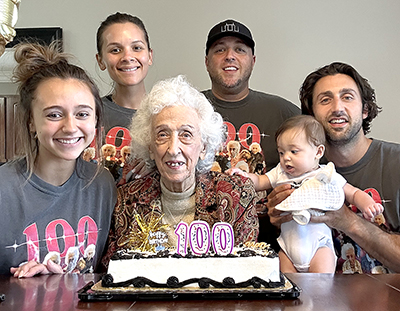 After just turning 100, Park Place of West Knoxville resident Karen Saragusa Stillwell said she is "trying to deal with it.

"It's nice, you know, reaching this age," she added. "I feel privileged."

Taking care of herself is Karen's secret to longevity. She never drank or smoked and she still exercises.

A look around the room reflects her paintings, as she had been a self-taught artist since high school.

"My mother was a San Francisco artist," Karen said. "She used to draw and paint at the kitchen table all the time and show me how.

"I guess I took it up from her," the centenarian added about her own painting talents. In a prior interview in 2019, she expressed a passion for bringing a painting come to life.

Hundreds of her acrylic, oil and watercolor paintings, covering a seven-decade span, have been featured in galleries in the San Francisco Bay Area and Knoxville.

Additionally, Karen was "busy" in politics, so to speak.

"I met a lot of important people. I have books and pictures of California and United States — people who ran (for office)," she said.

During the 1960 U.S. presidential campaign, she earlier recalled, "I was running the headquarters" to support then Sen. John F. Kennedy in Pittsburg, California.

At a campaign stop in nearby Martinez, she remembered the future President "came off the train especially to meet me."

She also met famed 1950s crooner and movie actor Frank Sinatra, with whom she got hugs, along with actors Janet Leigh and Tony Curtis, singing legend, the late Tony Bennett; actors Burt Reynolds and Loni Anderson; and comedian Rich Little.

Karen also was an active ballroom dancer and teacher during her life and enjoyed traveling and crocheting.

"I crocheted my daughter's wedding dress," she said.

Karen was born Sept. 4, 1923, in Pittsburg, California, to Neno and Carmelina Saragusa. The only girl, she had two brothers, John and Frank.

She was married to George Stillwell for about 20 years when he passed away.

Karen has two children, Marie Stillwell and John Saragusa; two grandsons, Kent and Ryan Basile; and two great-grandchildren, Luca Basile and Savannah Basile.

She came to East Tennessee more than 20 years ago after her son came to Knoxville.

"We followed after to be with them," Karen said about herself and George.