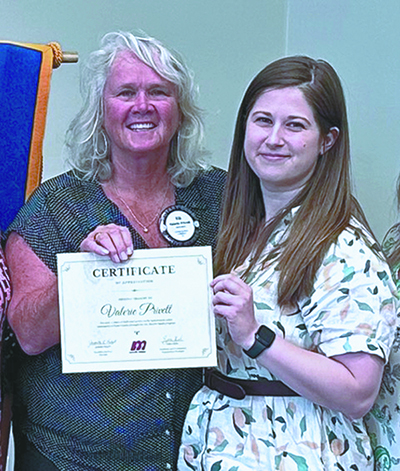 Unselfish volunteers can be hard to find.

They often go unnoticed and unappreciated. Ask around.

Then, Rotary Club of Farragut president Val Privett comes along. For the past 20 years, she has delivered Mobile Meals to seniors throughout Knox County, 45 weeks a year, one day a week. That's approximately 1,000 meals. And she's still delivering today, making a big difference for those she serves, literally.

In addition to her full-time job and her volunteer community relationships, Privett serves as 2023-2024 RCF president.

She was honored for her "outstanding volunteer contributions" to the Mobile Meals program during RCF's Wednesday, Aug.16, meeting in Farragut Community Center by Sara Keel, Mobile Meals program's Community Engagement manager.

"We are so proud that Valerie will be celebrating 20-plus years as a Mobile Meals volunteer," Keel said. "She is an amazing advocate for our program, and she truly cares about the seniors she visits every week.

"She is a passionate community advocate for her unwavering commitment to making a positive impact," Keel added.

And this is just the tip of the commitment iceberg that helps drive Privett's life, along with her full-time job as a business owner, her family and her huge circle of friends. Here are some other places where you can find her:

• At the Volunteer Ministry Center, where she has volunteered for more than 20 years, contributing time, energy and financial support to help VMC minister to the homeless.

"Val has given of her time, energy and financial support to the Volunteer Ministry Center for many years," said Zan J. Schriver III, Volunteer Ministry Center development and digital media manager. "Her commitment to VMC's mission to end and prevent homelessness is deeply appreciated and has directly impacted those that VMC serves in our community."

• The Wesley House for five years as a volunteer and past president of its board following COVID-19.

Privett helps with fundraising, projects to improve the facility and whatever else is asked of her.

"Val has served diligently for Wesley House for over five years," said Kara Finger, executive director Wesley House Community Center. "She served as our president right after COVID restrictions started to be released. 

"She did an incredible job of building community amongst our board members with the Wesley House mission in the center of it all," Finger added about Privett.

"She led with support, strength and safety in the forefront of her mind.  She leaves an amazing legacy at Wesley House filled with love, care and support."

 "Val Privett is one of the most caring and giving people I've ever met," said Eddie Smith, Childhelp director of organizational advancement. "For over 10 years, she has served on the Tennessee Advisory Board for Childhelp, assisting us in keeping the focus on serving the at-risk, neglected and abused children in our community. 

"On a personal note, I count Val's wisdom and guidance as invaluable, and I am grateful to call her a friend," Smith added about the honoree.

• In her seventh year with CareCuts of Knoxville, where she is a past board member.

"Val Privett has been with us from the beginning by volunteering, serving on our board, providing guest mentorship and as our guest welcoming team," said Marti Baker, founder of CareCuts of Knoxville.

"She was instrumental in launching us in April 2016 and has continued to help make our ministry possible to this day," she added.

"Everything she becomes involved with is done with passion, purpose and dedication," said Tom King, a Rotarian for 35 years and a past president of the Rotary Club of Farragut.

"Rotary's motto is 'Service Above Self' and Val lives this daily in every aspect of her life," he added.

After coaching women's collegiate basketball for 13 years, Privett started the Privett Insurance Group with a focus on coverage education for clients. In 2007, she started Beacon Insurance Advisers, a new agency, to continue to serve the community.

Privett holds multiple designations, is a Certified Insurance Counselor, a Certified Personal Risk Manager and a Life Underwriting Training Council Fellow.