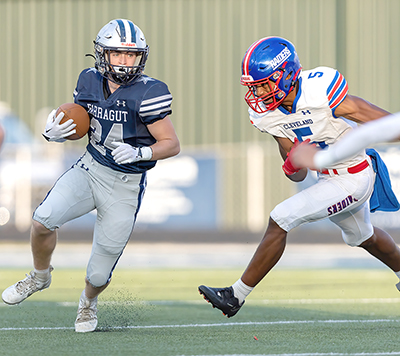 Overcoming Cleveland's quick first-quarter surge, pulling even after being down 14-0, Farragut went into halftime down 22-14, failing to score upon entering the red zone in the final seconds of the first half thanks to a bad snap on a field goal attempt.

The second half was pretty much all Blue Raiders, using a combination of speed — including the running of quarterback Lavante Adams and CHS's quick, no-huddle offense — and toughness in the trenches to pull away and win 43-21 on Homecoming Night at FHS's Bill Clabo Field Friday, Sept. 8.

Cleveland running back Brian Beard Jr. rang up 128 yards rushing on 19 carries while scoring one touchdown, as the Blue Raiders (3-1, 1-0) compiled 476 total yards for the game.

"This is the first time we've played a clean game, for the most part," Blue Raiders head coach Tygard Chandler said, adding about his team's quick tempo on offense, "Sometimes we were able to hit some things before they were really lined up and ready."

"They came ready to play," Admirals skipper Eddie Courtney said. "They out-coached us and out-played us tonight. ... And we got pushed around in the trenches too much. That disappointed me."

"I thought we had a great week of practice and were ready to play," he added. "Obviously we weren't. This one's on me."

A nice fingertip catch by senior receiver Brooks Burnett on a fourth-and-6 pass for 19 yards from quarterback Cam Duncan seemed to help change momentum, as Farragut went from trailing 14-0 to tying the game 14-14. A Wyatt Drummy 4--yard scoring run cut the lead to 14-7 with 7:16 left in the half.

The game would be tied less than one minute later, as Landon Collins' interception and 25-yard return down the right sideline placed Farragut at the CHS 44.

Two plays later, Duncan found Robbie Jacobs open down the right sideline for a 41-yard touchdown. Sophomore kicker Ryan McCue's second conversion kick tied the score 14-14 with 6:18 still left in the first half.

But Cleveland answered quickly, going 66 yards ending with a 13-yard scoring run to re-take the lead 22-14 (running in a 2-point conversion off a quick set after the 6 points).

The Admirals defense prevented more trouble thanks to a nice tackle by sophomore defensive back Zain Kureshi-Smith on a fourth-down pass, stopping the Blue Raiders on downs at the FHS 31 with 1:54 left in the half.

Farragut (2-2. 0-1) cut a 36-14 Blue Raiders advantage to 36-21 on Duncan's 15-yard TD toss to senior wideout Landis Davila with 4:49 left in the game.

But after failing to recover an onside kick, Farragut saw the visitors nail the final blow with a 36-yard touchdown pass with 2:33 remaining.

Burnette also was a positive factor on special teams, booting punts of 68 and 49 yards with neither returned.