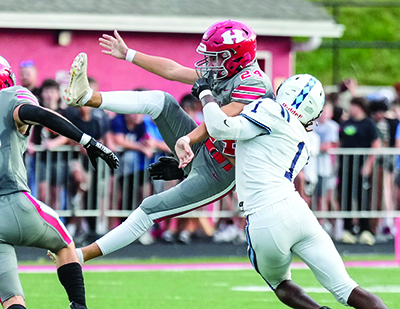 HALLS — In a battle of unbeatens, the Halls Red Devils hosted the Hardin Valley Academy Hawks Friday, Sept. 8. When the final buzzer rang, it was the Devils who were victorious, handing the Hawks their first loss of the season 31-0.

As the first quarter unraveled it was back and forth with punts, fourth-down stops and turnovers until Halls got on the board on a 50/50 throw to the end zone late in the first quarter, where the wide receiver was able to come down with the football.

The next score did not come until the end of the second quarter, when Halls was able to march down the field and kick a field goal with time expiring in the half.

In the second half, Halls kept rolling and HVA had nothing for them.

The first score of the second half came on a play to the running back out of the backfield who caught it wide open in the end zone, making the score 17-0. After a few possessions for both sides, the Red Devils were able to pin the Hawks back on a fourth down punt, and the next score came on a scoop-and-score for Halls to go up 24-0.

The Hawks could not hang on to the ball long enough to get anything going — fumbling on four consecutive possessions and ultimately giving a short field for the last score of the game, which came late in the fourth quarter.

Junior defensive end Michael Stewart disrupted the Halls attack at times, accounting for three tackles and a fumble recovery while pressuring the quarterback.