Levenson family starts anew with Realty Execs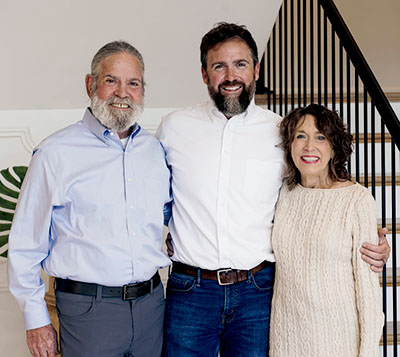 The Levensons, a family of real estate professionals at RE/MAX, moved to a new company, Realty Executives, 124 N. Winston Road, Tuesday, Sept. 12.

"Rich, Patti and I have all moved over," said their son, Ryan Levenson. "Rich and I are technically 'principal brokers,' but we will just be acting as broker/consultants, as is Patti."

Rich and Patti have been in Real Estate for more than 40 years while Ryan has been in the business for 16 years.

"Rich and Patti started RE/MAX in Knoxville in 1987," Ryan said. "They were with Powers Real Estate first, then Century 21, then Volunteer Realty before they started the first RE/MAX franchise(s) in Knoxville in 1987.

"I have been with RE/MAX since 2007, when I started, but grew up with RE/MAX in my blood," he added,

However, the family moved on.

"The change of companies stemmed from our sale of RE/MAX, which occurred in October 2020," Ryan said. "At that time, I owned the company, which I purchased from my dad about seven or eight years prior.

"Once I sold the company, we remained with RE/MAX for two years to assist in the transition," he added.

After that transition period, "we decided to change it up and join REA," Ryan said. "We needed a change and wanted to associate with one of the best brands in town, Realty Executives.

"The main attraction for us was the great name/brand in Knoxville, the quality of the agents at that firm and, for me, my relationship with Justin Bailey, the CEO," he added. "Justin and I have become friends over our 16-plus-year career in this business, and we currently serve as the president (Ryan) and first vice president (Bailey) of the East Tennessee Realtors — our local Real Estate Association, comprised of over 6300 agents serving 12 counties.

"We have worked together most of our career, as friendly competition, and have grown to become great friends. I trust Justin with my life, and clearly, my career."

With the changover to a new company, The Levensons will be bringing their long-established book of business with them.

"The change breathes new life into our real estate business, energizes us again and excites us to be part of something bigger," Ryan said. "We enjoyed running RE/MAX for the past 33 years, but it was time for a change.

"The change will also bring a lot of opportunity to grow our businesses and better serve our clients," he added. "The tools and support at Realty Executives, along with the amazing name/brand in Knoxville, will allow us to better serve our clients.

The Levensons' business can be reached from 8:30 a.m. to 5:30 p.m., Monday through Friday, and by appointment outside those hours, at 865-588-3232. Ryan also can be reached at 865-250-3400 or by e-mail at ryanlevenson@realtyexecutives.com Also reach Patti at 865-310-7448.