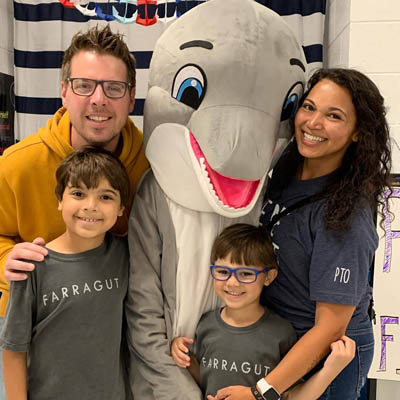 Farragut Primary School will come alive with fall spirit when it hosts its annual Fall Festival from 10 a.m. to 1 p.m., Saturday, Oct. 21, on the school grounds, 509 N. Campbell Station Road.

"The Fall Festival will have a little bit of everything from games to arts and crafts to inflatables to photos with Finley — our beloved dolphin mascot," said Jhasta Tack, the FPS Parent-Teacher Organization president. "We will also continue the traditions of hosting a bake sale and a silent auction, in addition to musical performances from our second-grade classes.

Concessions, as well as Chick-Fil-A and Kona Ice, also will be available for purchase, as will spirit wear.

While adult attendance is free, only children need wristbands.

Tack said wristbands are $15 each and "that gets you unlimited access to all of the activities.

"For families with four or more children, we offer a $50 Family Pack with the same access," she added.

Wristbands can be purchased by visiting fpspto.org to take advantage of presale pricing.

"Our presale runs until Thursday, Oct 19, where you may purchase a wristband at $15 per child — only children need wristbands — or a family pack," Tack said.

Wristbands also will be sold on site at the festival for $20 each. 

The event is "fun for the whole family," she said. "All are welcome, and you don't have to have an FPS student in order to attend. We invite our entire community to come enjoy the fun.

"The FPS PTO is so excited to host this year's Fall Festival, and we are honored to serve our community via our biggest fundraiser of the year," Tack added. "Because of our amazing parents, volunteers and donors, we get to provide fun for everyone while supporting our teachers, staff and students through the funds that are raised from the Fall Festival."

The festival has been taking place since the early 1970s, Tack said.

"Last year our Fall Festival brought in over $37,000 for Farragut Primary School," she said. "We would love to see this year's Fall Festival bring in more funds as it all goes to support FPS.

"There's so much we're able to do with the funds our FPS PTO generates, from grounds maintenance to staff lunches, all the way to making sure we have up-to date-technology for our students, as well as saving funds for plans to update our playgrounds to accommodate all our friends at FPS," Tack said.

"Every bit of it circulates back into our school."

Sponsors, parking

To help FPS PTO meet its fundraising goal, the following businesses sponsored the event as platinum and gold sponsors: Angela Floyd School of Dance; Baby Otter Survival Swim Academy; Blaze Pizza; Chick-fil-A; Concord United Methodist Church; Cool Sports Home of the Icearium; Fresh Impressions; Josh Hemphill State Farm; Knoxville Academy of Martial Arts; LearningRX; Meridiem DermSpa and Dermatology Associates of Knoxville; ORNL Federal Credit Union; Premier Martial Arts; Pristine Smiles Dentistry; Pryor Priest & Harbor Attorneys at Law; Reissing Health Family Chiropractic; Smoky Mountain Pediatric Dentistry; The Allergy, Asthma and Sinus Center; Window Hero; and Urban Air.

Although parking on school grounds is limited, Tack said families also may park at Founder's Park and Westgate Christian Fellowship Church's parking lot.