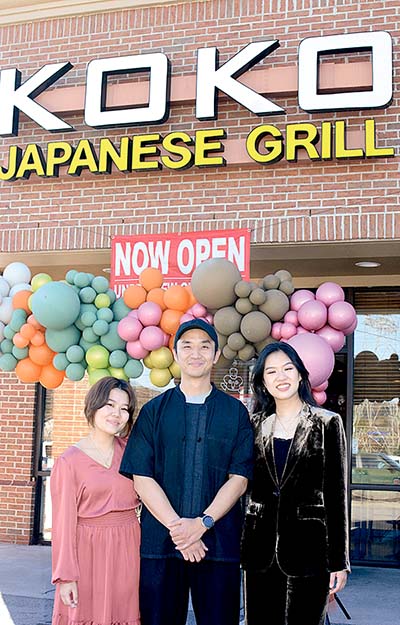 KNOXVILLE — Two Farragut High School Class of 2020 graduates, Nyah Marasijan and Yune Kim, and a family friend, Jeek Kim, have fused their talents to take over and open Koko Japanese Grill.

"It's just a very synergetic group," Marasijan said of the partnership. "All of our skills are able to make this business be the best it possibly can."

The Korean-Japanese fusion restaurant had a soft opening Wednesday Nov. 1, followed by a grand opening Saturday, Nov. 4, at 8883 Town and Country Circle in the Cedar Bluff area.

While the cuisine currently is more Japanese, the partners are looking to meld their Korean creations into the menu.

"We inherited some of the concepts they had from the previous owner, but we have changed major recipes for some of the dishes, the sauces, meats, methods and procedures to get it up to our standards," Jeek said.

Among the menu items are kimbap, a Korean version of the sushi roll; bulgogi, shredded marinated beef ribeye; ramen bowls; poke and teriyaki/hibachi, among others.

"I've always seen myself as owning a business," Marasijan said. "I studied media arts and creative writing in school — I've always been a very artistic person — but I like taking the entrepreneurial aspect of art and seeing how those two fields intersect."

For example, besides the restaurant, Marasijan manages rap, hip hop, punk and rock artist Raden Paris.

"We're in the process of creating his EP," she said. "Hopefully it will be out in the summer."

Still, "I think this restaurant has helped me experience that on a much larger scale," Marasijan said.

Yune Kim (who is not related to Jeek Kim), currently is attending classes at the University of Pennsylvania while Jeek, who was born and reared in Korea, is a graduate of Kaywon High School of Art in 1999, and came to the United States in 2000.

He met Marasijan and Yune Kim through Yune's mother, Jean Chung, who is in a real estate business with Chung.

"Food has always been a love language for all of us, and me and Yune are both very artistic," Marasijan said. "Growing up, we had the lemonade stands together. Every Christmas, we would bake our friends things.

"So, making food for people … has always been how we have shown our love, and I think, through a restaurant we've been able to experience that on a much larger scale," she added.

They learned of the opportunity to buy the restaurant through Chung, who was the listing agent for the location. "They've always had a passion to have something like this — the hospitality business," Jeek said of his partners. "But since they're both young ladies, they don't have much experience — running a business and what it's like — that's where Jean thought of a piece of the puzzle they needed — that's where I came in."

A 23-year veteran in the restaurant industry, Jeek brings his experience to the table. He last was as director of operation and corporate chef of NAMA, LLC.

Koko Japanese Grill currently is open from 11 a.m. to 2:30 p.m. and 5 to 10 p.m., Tuesday through Saturday.

For more information, call 865-692-8163 or visit on Instagram.