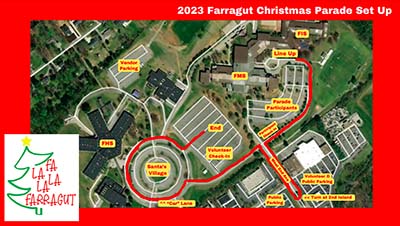 Seventeen mothers, PTO leaders and educators are working side-by-side in a committee to plan the Town's 2nd Annual Christmas Parade.

"They (committee members) have all stepped up and worked hard … trying to make sure every i is dotted and every t is crossed," said Amanda Kincaid, Farragut Parade Committee co-chair with Stephanie Thompson.

"We want to bring that small town Christmas feel," she added. "We hope to eventually go up Kingston Pike."

Also, "we want to make it safe and entertaining for everyone. We hope to continue the tradition and get bigger and better every year."

The event — complete with Santa and Mrs. Claus, Admiral Dave, Finley the Dolphin and Buddy the Elf — is slated for 4 p.m., Sunday, Dec. 10, with Santa's Village open from 2 to 4 p.m. on the Farragut Middle School campus.

"We have surprise grand marshals — Farragut residents and UT sports legends," Kincaid said. "It's going to be really fun … We expect a huge turnout."

The new route this year starts at FMS, travels down West End Avenue, proceeds west and circles at the second island on West End Avenue, then travels back up the avenue to the high school, traveling the "wrong way" in FHS's car lane and ending at FHS's junior lot.

"This way, we will have more people at the centralized location," Kincaid said, adding West End Avenue will be closed off by 2 p.m., as will Lendon Welch Way and the access from North Campbell Station Road to the high school.

"We have received a lot of last year's notes, taken surveys from our community and spoke with (Farragut Board of Mayor and Aldermen) members, who have agreed to shut down a part of West End Avenue to allow for a larger route and more parade participants," she said.

Currently, there are 45 participants signed up.

"We've gone up 10 (participants) from last year," Kincaid said. "The response has been outstanding."

Participants included other high school student volunteers

Along with the parade, Santa's Village will feature 55 vendors' booths, where people can shop, eat and enjoy hot chocolate served by Farragut High School Student Government Association members.

New this year, Kincaid said Santa's Village will have food trucks. Additionally, the village will provide "a unique Christmas shopping experience for parents and children with crafts and booths," such as a photo booth and face painting.

Also, Christmas carolers will entertain the crowd.

For more information about the event or to participate, visit farragutchristmasparde.com.